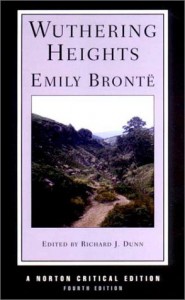 I'm with Edward Cullen on this book. It's not a love story, it's hate story, and that's by and large why I gave it such a low rating.
There's no doubt that Emily was a prodigious talent. It screams on every page. I felt it in the latter chapters of this novel when I imagined myself as young Cathy, and tried to think of all the ways she could murder Heathcliff. But although that extreme response is a testament to her ability, it isn't an emotion that I felt should be raised by a novel that's message was consistently and overwhelmingly negative.
Not only that, but it's difficult to appreciate a book that has virtually no redeeming characters at all for the majority of its pages. Even Nancy seems cold (although who wouldn't be in the midst of all that?)and so it's difficult to care too much when everyone is so unlikeable. Sure, there is a bit of redemption on the last few pages, but by then I just wanted to see how it played out, and I had no real interest in the characters. It was a shame that there couldn't have been a little restraint here and there, to temper the bitterness and passion.